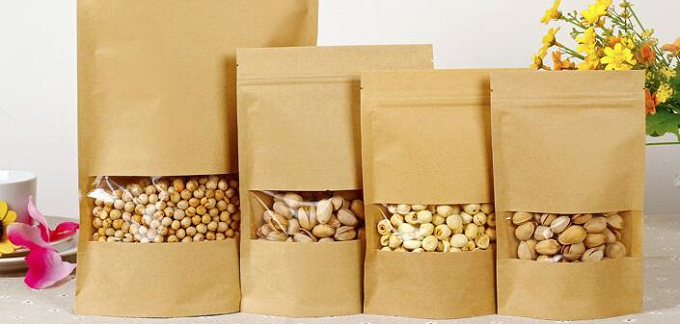 Sustainable
Packlinq reclosable stand-up pouches with kraft look are sustainable and firm. They are made of 150-micron thick laminate and provided with a grip fastener. The bags are provided with extra wide seal seams, making sure they don't tear easily. In addition, due to its natural look the bag stands out on the shelf.
Safe for food products
If you would like to save food products in a reclosable stand-up pouch, then of course you must be 100% sure that the bag you are using is suitable to do so. The Packlinq bags are perfect for this, they are food safe and FDA approved. In addition, the inside of the stand-up pouches is made of laminated plastic, making sure the bags don't leak.
Reclosable = longer fresh
Another advantage for selling food products in a reclosable bag made of kraft, is that because of the airtight, reclosable grip fastener, the food stays nice and fresh for a long time. The window makes sure your product is well-visible. Because the bags stand-up straight once they are filled, a reclosable stand-up pouch forms the perfect packaging for food products.

Reclosable kraft stand-up pouches have a luxurious look
The reclosable stand-up pouches with a kraft look are not only practical to sell your products in, they also give your product a more luxurious look. Because let's be honest, would you rather choose a product in a boring plastic packaging, or one that looks gorgeous in a kraft stand-up pouch?

To be used for different purposes
Are you the creative type? Then you must be able to think of a million different ways to use the reclosable kraft stand-up pouches. How about as a gift wrapping? Or beads or other DIY items? With a stand-up pouch the possibilities are endless.
Your own design
Would you really like to stand out on the shelf? Then it is possible to print the reclosable stand-up pouches with your own logo or text.