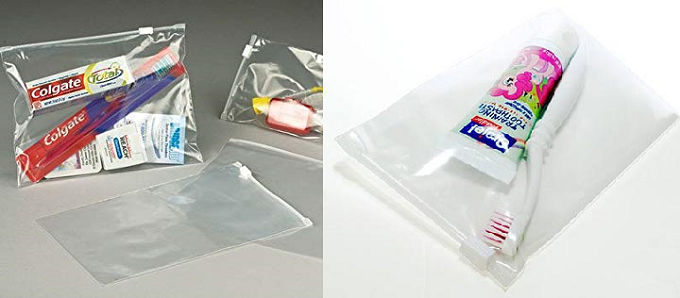 Zipper bags are used all the time, by private individuals as well as by companies. Not surprising, because this type of bag can be used for many different purposes, some of them are even suitable for food products. Besides, the crystal-clear zipper bags are sustainable and super easy to use. It's just a matter of choosing the right size and voila: you'll have a beautiful packaging for your product or a perfect way to organize things in no time.
The zippers on the bags are sustainable and the bags are strong as well. Stronger than regular seal & grip bags for example, with a thickness of 75 micron. In addition, the clip of the zipper stays firmly in position.
Zipper bags: perfect for product presentation
Zipper bags are a convenient way to make sure items stay tidy and sorted. For companies, the zipper bags are perfect for presenting products in a beautiful way and at the same time, to make sure the products remain beautiful. Are you selling clothes for example? Then you must have noticed customers accidently damaging a clothing piece. Especially clothes that are made of delicate materials are sensitive to nail hooks or to an uncareful customer. By packing these items in a reclosable, see-through bag you prevent unnecessary costs from damaged products.
See the firm zipper bags in our web shop
Zipper bags to use on the plane
Zipper bags are not only useful for companies though. When bringing fluids on an airplane for example, since a couple of years, passengers must put all their fluids in a closable, see-through bag. Because the zipper bags are firm and can easily be closed with a zipper, the bags are perfect for this as well. In addition, the bags have an extra advantage when you use them during your travels: should your tooth paste, shampoo bottle or shower gel start leaking during your flight, the rest of your luggage will stay clean!
Visit our web shop for different types of zipper bags in our product range